Dear Lambrick Park Families,
LAMBRICK PARK SECONDARY SCHOOL WEBSITE
MONDAY                    November 07             – LAMPAC meeting 7:00pm in the library
TUESDAY                  November 08
WEDNESDAY            November 09                                                                        
THURSDAY                November 10             – REMEMBRANCE Day assembly 1:00pm in the gym
                                                                           – CAMOSUN FOOD TRUCK
FRIDAY                      November 11             – REMEMBRANCE Day – school closed
_______________________________________________________________________________
To LP Families:
TIME CHANGE REMINDER
We "Fall Back" this weekend! Don't forget to turn your clocks back an hour when you go to bed on Saturday night.
We get an extra hour this weekend, and hopefully we can all use it to catch up on some sleep and acclimatize to our November weather patterns.
WALKERS AND BIKERS
With the time change and low light in the mornings and early afternoons, please remind your students to be safe
when walking or biking to school. Dark and dreary days make it hard for drivers to see pedestrians and bikers, so put
on some bright clothing, get your reflectors and bike lights out, and be safe.
REMEMBRANCE DAY
Our school will gather for a Remembrance Day assembly at 1:00 on Thursday, November 10th. There will be a limited number of seats available if parents/guardians wish to attend.
The school has a supply of Poppies for everyone as we approach Remembrance Day. Please send your students
with some cash to donate for the poppies.
 TERM END
Mid-Semester Reporting is coming up. This weekend is a great time for everyone to use that extra hour to make
sure they are up to date in all of their classes.  Don't forget about Careers for those students in grade 10/11/12.
With some planning, time and effort, you still have time to make sure your grades for the upcoming report card reflect your best.  Report cards will be available for download in the MyEdcuation BC Student Portal on November 18th.
Please have your student come to the office ahead of this date if they are having difficulty accessing their account.
CLUBS
Lots of clubs and opportunities still happening:
OUTDOOR ED has a trip planned soon
FISHING CLUB has been out to Thetis Lake a couple of times
LAMBASSADORS Leadership Club spent time working with grade 6/7/8 students from Gordon Head Middle School.
INDIGENOUS Student Advisory – started an Indigenous Plant Garden at the side of the school
IMMUNIZATION consent packages for grade 9 students should be signed & returned to the school ASAP.
Have a great extra hour weekend.
GORDON HEAD MIDDLE SCHOOL GRADE 8 FUNDRAISER:
VICTORIA INTERNATIONAL INFO: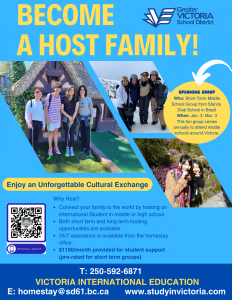 LAMPAC
A reminder that LAMPAC has changed it's day of the week and date for the November meeting.
We plan to meet on MONDAY NOV 7th at 7:00PM at the school. We are really hoping that switching the day of the week will allow for more parents to attend and become members of our LAMPAC. Hope to see you there.
 DRAMA NEWS:
After many weeks, we have finally been able to produce the Film and Television's first "Lion's Eye" episode of the year.  The students have done a great job of this episode, it is filled with laughter, info about the Halloween dance, a clubs commercial, some teacher talent, and back by popular demand, "Teacher's Tea"!
Sit back and enjoy the show.   Here is the link:   The Lion's Eye – Episode Xi
CAREER CENTRE:              
 LAMBRICK PARK CAREER CENTRE WEBSITE
 SPORTS INFO:
 Athletic Director:  Mr. Gary Baker gbaker@sd61.bc.ca
 We've had some great success this fall season!
Cross Country:
Good luck to those that have qualified for the BC Provincial Championships this Saturday. If you happen
to be in the Royal Roads area on Saturday, come cheer on the team if you can starting at 12:00!
Volleyball:
 LP Senior Girls came in 2nd in the city. Way to go!!!
LP Senior Boys are hosting the Island Championships on November 18 & 19 good luck, if you can, pop by
to cheer them on.
Both our LP Junior Volleyball Teams continue to strive for placements at the cities, islands and possibly provincials as their season winds down.
 Please check out DAILY ANNOUNCEMENTS for daily events!
 GRAD 2023 NEWS:
 Grad Photos will take place the week of December 12 to 16. A link from LifeTouch will be sent to
students in the coming weeks which will allow students to sign up for a Grad Photo Session.
GRAD2023 WINTER FORMAL:
Grads are now able to purchase tickets ($75.00) through school cash online for the Grad Winter Formal on December 15th from 6:00 to 10:00 at The Beach House. The price includes dinner/gratuity and the
cost of the DJ for the dance.
Guest forms will be available in the office on November 14th for those who wish to bring a guest who is
not a Lambrick Park Grad. These forms must be completed and returned to the office for approval by November 28th prior to purchasing tickets for the guests.
Students will be asked to sign up for a table in the office starting on December 5th after purchasing tickets. Students who do not sign up for a table will be assigned seating.
 SHOP LAMBRICK: