Dear Lambrick Park Families,
LAMBRICK PARK SECONDARY SCHOOL WEBSITE
MONDAY               November 28        
TUESDAY              November 29        
WEDNESDAY        November 30                                                                    
THURSDAY           December 01        
FRIDAY                  December 02
_______________________________________________________________________________
To LP Families:
If you are not following our Lambrick Park Instagram, please know it is a great way to see so many of the Lambrick Park Instagram
Also, don't forget that you can check out our daily announcements on our website  for information as well. DAILY ANNOUNCEMENTS
Cold and Flu season is in full swing. Please reminder your student to:
Stay at home when sick (don't forget to reach out the school and let us know as well)
Don't share food or drinks
Practice good hand hygiene
Stay at home when sick
CAREERS COURSEWORK:
Please remind your student about their Careers class if they are in grades 10/11 or 12. All the work is online and many of the assignments can be completed quickly with some
focused effort.
TECHNOLOGY
Many of our students are struggling to focus during class because of their phones. Please help us by not texting or messaging your student during class time.
Have a good weekend
WINTER CLOTHING DRIVE
We are inviting the LP community to kindly donate any new or gently used winter clothing (jackets, sweaters, toques, socks, scarves, gloves, blankets, etc.) for those in need during the cold winter months. All donations will be taken to Our Place Society which is in desperate need of coats and other items.
Thank you for your kindness and generosity in advance! Questions?
Contact Ms. Moreau at jmoreau@sd61.ca
LAMPAC
Purdy's Chocolate PAC Fundraiser – Raising funds to Support Programs at Lambrick Park
Our Purdy's Chocolates Holiday fundraiser is live!  Give the gift of chocolates and help support programs at LP.  We can earn up to 25% of the fundraising profit so this is a great opportunity to support all the amazing programs available to our students.  Deadline for orders is November 30th  Order will be available for pick up from the school Dec 14-16, 2022.
WALKERS AND BIKERS
With the time change and low light in the mornings and early afternoons, please remind your students to be safe when walking or biking to school. Dark and dreary days make it hard for drivers to see pedestrians and bikers, so put on some bright clothing, get your reflectors and bike lights out, and be safe.
CLUBS
Lots of clubs and opportunities still happening:
OUTDOOR ED has a trip planned soon
FISHING CLUB has been out to Thetis Lake a couple of times
LAMBASSADORS Leadership Club spent time working with grade 6/7/8 students from Gordon Head Middle School.
INDIGENOUS Student Advisory – started an Indigenous Plant Garden at the side of the school
IMMUNIZATION consent packages for grade 9 students should be signed & returned to the school ASAP. – Immunizations are scheduled for DECEMBER 8th
VICTORIA INTERNATIONAL INFO: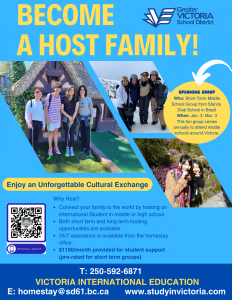 DRAMA NEWS:
Coming soon to LPSS March 7th – 11th 2023!
MONTY PYTHON'S SPAMALOT
a new musical "lovingly" ripped off from the motion picture
MONTY PYTHON and the Holy Grail!
CAREER CENTRE: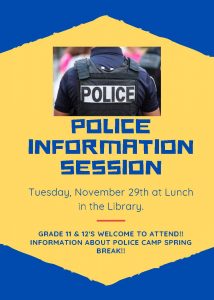 POLICE CAMP session November 29th – Grade 11 & 12 WELCOME to ATTEND at lunch in the LP Library
LAMBRICK PARK CAREER CENTRE WEBSITE
SPORTS INFO:
Athletic Director:  Mr. Gary Baker gbaker@sd61.bc.ca
We've had some great success this fall season!
SOCCER:
Congrats LP SENIOR BOYS SOCCER for finishing 7th in the Province!
VOLLEYBALL:
Good luck to our JUNIOR AND SENIOR BOYS VOLLEYBALL teams as they compete in the Provincial Championships.
Please check out DAILY ANNOUNCEMENTS for daily events!
GRAD 2023 NEWS:
GRAD2023 Photos from PRESTIGE will take place the week of December 12 to 16
https://schedule.prestigeportraits.ca/schedule/home.html
If you have any further questions regarding booking an appointment or what to expect,
please contact us:  qvarea@lifetouch.com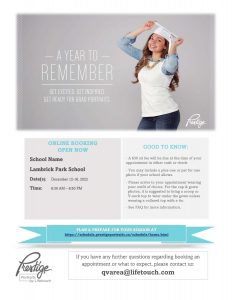 GRAD2023 WINTER FORMAL:
Grads are now able to purchase tickets ($75.00) through school cash online for the Grad Winter Formal on December 15th from 6:00 to 10:00 at The Beach House. The price includes dinner/gratuity and the cost of the DJ for the dance.  Guest forms will be available in the office on November 14th for those who wish to bring a guest who is not a Lambrick Park Grad. These forms must be completed and returned to the office for approval by November 28th prior to purchasing tickets for the guests.
Students will be asked to sign up for a table in the office starting on December 5th after purchasing tickets. Students who do not sign up for a table will be assigned seating.
SHOP LAMBRICK: