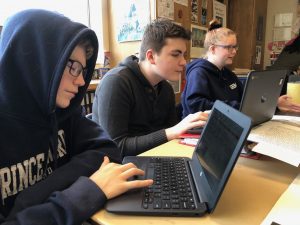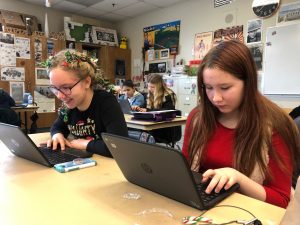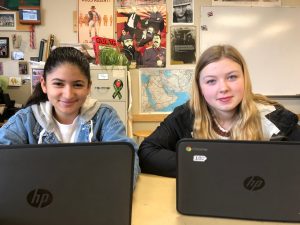 We are delighted to offer the opportunity for Grade 8 students to apply for Lambrick Park's 'ACCEL 9' Program for the 2023/2024chool year. 'ACCEL 9' stands for "Accelerated Course Credit Education Link" and is designed for future grade 9 students to enable them to accelerate their academic program and link to future opportunities in grades 11, 12 and beyond.
The 'ACCEL 9' program has two components. Students may apply for either or both. The first component is the 'SciMatics Component' is currently taught by Mr Helm. Successful applicants are placed in a year long class which enables students to complete Science 9, Math 9 and Science 10. This means 3 courses are completed in the same time frame as traditional programs complete two courses.
The second component is the 'Humanities Component' currently taught by Ms Weir. This component combines English 9 with Social Studies 9 and Social Studies 10 in one class that spans the school year. Again, this provides students with three course credits in a two course time frame.
The spirit of the program is to give students both an accelerated option within our timetable structure and provide the link to more senior options in grades 11 and 12. LPSS accelerated options provide students with three extra course choices over their four years at Lambrick Park to explore other course offerings. We believe more students will attempt: all three Sciences, a second (or third) language, Calculus 12, Economics 12, an extra senior Humanities course  or perhaps an extra Fine Arts or Applied Skills elective. ACCEL students will also have extra opportunities to gain Post-Secondary credits while attending Lambrick Park.
As noted above, students may apply for either or both components. 'ACCEL 9' classes will enrol students who demonstrate excellence in achievement, ability, attention to academic rigor, self-management and a personally stated passion for the subject(s). Our mission at Lambrick Park is to actively engage students in the endless possibilities of learning through our programs. The 'ACCEL 9' program will challenge students to exceed expectations as outlined in the prescribed Grade 9 and 10 curricula; and, teachers expect students will attend to all course elements…enabling them to explore enriched opportunities for a deeper and wider understanding of their subject areas.
Application Process
Students may apply for one or both of the Accel programs. Please fill out the appropriate application form(s) below and submit by January 24th 2023:
The application form links below will become active by January 16th.
Gordon Head Middle School Students: After students have submitted the application form(s) arrangements will be made for Lambrick Park staff to attend Gordon Head for a follow up interview for all students who have completed the application form on January 30 and 31 at Gordon Head Middle School. The results of the application and interview will be emailed to students and parents shortly after.
Students from Other Middle Schools: After students have submitted the application form(s) please contact Gord Mitchell (Principal) to arrange a time for the student to participate in an interview.  The results of the application and interview will be emailed to students and parents  shortly after.
Please feel free to contact the school for more information.
250 477-0181