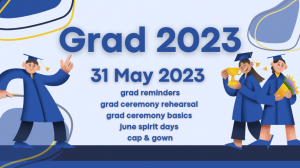 Grad Assembly (May 31 2023) (Presentation) – click to download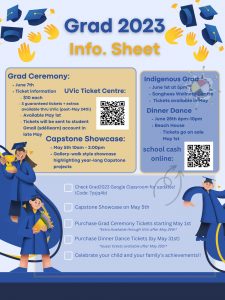 Click here to download the above info sheet.
GRAD2023 INFO (Link to slides from Family Grad Info Night March 14)
1. Grad at University of Victoria, Uvic Farquhar Auditorium – June 7th (7-9)
Tickets to the Ceremony 
Tickets are now only available through UVic's Ticket Centre and can only be purchased in person or by phone ($10/each)
Phone number for the Ticket Centre is 250 721 8480
Hours of operation are 9:30 – 4:30 Monday – Friday
Accessibility questions can be directed to UVic
*Tickets previously bought on schoolcashonline will be delivered to your child's sd61learn email account.
Rehearsal JUNE 7th at UVic Farquhar Auditorium at 8:45am
Anyone participating in the ceremony must attend the rehearsal (NO EXCEPTIONS).
Cap and gown not required for rehearsal – Wear Souvenir Grad T-Shirt (handed out on May 31 at Grad Assembly)
Students are strongly encouraged to bring the shoes they intend to wear that evening to the rehearsal
Meet in the lobby of UVic Farquhar Auditorium at 8:45am.
Paid Parking at UVic (Consider carpooling and buying a day pass).
No food or drinks in the auditorium (closed water bottles acceptable).
We are guests. Treat the facility and staff with respect.
This is a formal event.
Know where you are in the "two lines". Which line and who is in front and behind you.
Ceremony – begins at 7:00, students to show up at 6:00 for group photo and then lining up!
Cap & Gown Instructions
Students will receive their cap and gown package at the Grad Assembly on 31 May
Instructions for Cap and Gown

Take home and hang up to smooth fabric
Low heat iron or steam
Cap can be secured using bobby pins
All students back to UVic at 6:00 wearing cap and gown
Move to the lawn behind the auditorium for the class photo
Organize into the two lines outside the back of the auditorium at 6:30
Watch the Live Stream of the Graduation Ceremony
This Stream Will Begin At 7:00pm on June 7th (link to be shared closer to).
2. Grad Dinner/Dance – June 28th at the Beach House Restaurant (6-10)
Tickets available for purchase May 1st to May 31st through school cash online.
All students attending must sign up for a table
Sign up list available on Monday, June 12th
Arrive between 6:00 and 6:30 at the latest
Each person will be checked in at the door
Bags and purses are subject to search
There is no re-entry. Once you leave you can not return
Anyone suspected of being under the influence will not be admitted and no refund will be provided
Grads are responsible for the behavior of their guests